Rheem Thermal Air To Water Heat Pump Hydronic Heaters

From Rheem Thermal we now have the new Australian-made premium Rheem Thermal range of heat pumps for hydronic heating. These pumps have up to 50% cheaper running costs than natural gas systems & up to 80% cheaper running costs than LPG heaters. These Heat Pumps can be supplied as dedicated Hydronic Heating Solutions, or as Combi systems that provide a combination of hydronic, domestic hot water, swimming pool heating and can also be supported by a wood fire with a wet back and solar hot water and solar electric panels. These are the best value for money heat pump on the Australian market today. Do not compromise for cheap imports with poor components and no service support.
---
A clean and silent approach to space heating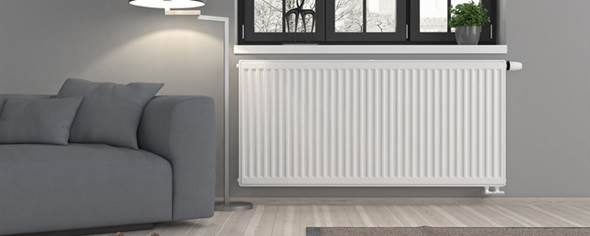 Hydronic heating provides a luxurious form of space heating for homes and commercial buildings, with heated water circulated either via underfloor loops or radiators. Hydronic heating creates constant temperature distribution and its radiant heating warms objects rather than air by natural convection, giving great heating efficiency and comfort.
Capability
The Rheem Thermal Accent hydronic heat pump uses the best refrigerants and is available in both air-to-water and ground-sourced/water-to-water design. Air-to water type is suitable for an operating range between 0°C to 40°C ambient. The use of water-to-water design (with the water source may be a dam, river or canal) or ground-coupled type (where the fluid is typically a water/glycol mix which is circulated in a closed ground loop) allows the use of heat pumps in cold climate zones where sub-zero ambient temperatures would otherwise preclude this technology. For a water-sourced unit, the minimum entering water temperature to the heat pump's secondary side would be 12°C, with the leaving water at 7°C. These parameters lower to 0°C/-5°C for water circulating in a closed ground-loop given that the risk of freezing is eliminated by the use of glycol. These units are capable of heating water up to 61°C but are also manufactured as reverse cycle to provide a potential for space heating and cooling.
Efficiency
The efficiency of these units in hot water production is broadly in the range of 2.5 to 5.0, with this figure varying depending on the temperature requirements of the application as well as the temperature of the heat source.
Range
Our residential range focuses on Heat Pumps for home space heating with single phase options to a nominal heating capacity of 10kW to 24kW and three phase options from 24kW to 66kW. The commercial range includes units up to 339kW. Technical data for a cross-section of the range is given on the PDF document you can download below. Contact would be welcomed on other capacity and design configuration options.
Breadth of use
The standard function of these units is to provide comfort space heating and cooling but the robustness and versatility of the Accent design has seen use in a wide variety of applications, particularly in primary industries (such as piggeries and poultry sheds) and agriculture (greenhouse heating).
Extra Features
Heat exchangers can be stainless steel plate or copper shell-in-tube. Copper shellin-tube may be upgraded to cupro-nickel, either side, single-wall or with optional vented design. Flow switch protection. Multiple safeties including low temperature freeze protection on the chilled water side. Full commercial construction with marine grade aluminium case. Digital controls and upgradable to Rheem IQ® including BMS.
---
RHEEM PREMIUM THERMAL RTHP SERIES
Full commercial construction including marine grade aluminum case and anti-corrosion treatment of the evaporator
10.0kw to 66.0kW output
Market leading level of efficiency
Demonstrably lower running cost than competitor offering due to higher efficiency
Best suited to Australian conditions with enhanced evaporator and heat exchanger capacity
Suited to cool climate operation
Compressor housed in separate internal cabinet minimizing noise.
Over temperature control
HP/LP pressure control and flow switch
Marine Grade Aluminum Case, with the option of colour matching
Australian-made
Full manufacturer's warranty and factory/service support nationally
Faster temperature rise relative to competitor models based on higher heat transfer efficiency
---
SIDE OR TOP DISCHARGE
SIDE-AIR-DISCHARGE CONDENSING UNITS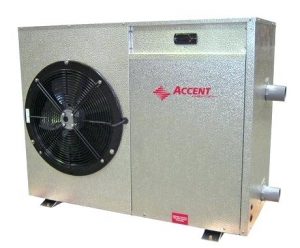 Air To Hot Water condensers all discharge cold air. Most early condensers discharged the air out the side and were called side discharge. The advantage of this equipment is that the fan and motor are under the top panel, therefore protected from heavy weather, leaves etc, and the discharge air and sound is blown in one direction. This is also ok for installations under decks etc.
TOP-AIR-DISCHARGE CONDENSERS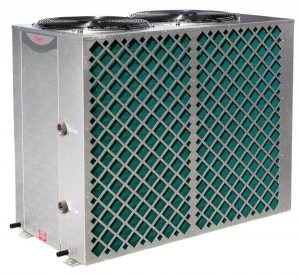 The modern trend in residential equipment is for the condenser to be a top-discharge type. In this type of unit, the cold air and noise are discharged from the top of the unit into the air. This is advantageous as far as air and noise are concerned, but the fan and motor are on top of the equipment, and rain, snow, and leaves can fall directly into the unit, so the fan motor should be protected with a rain shield.